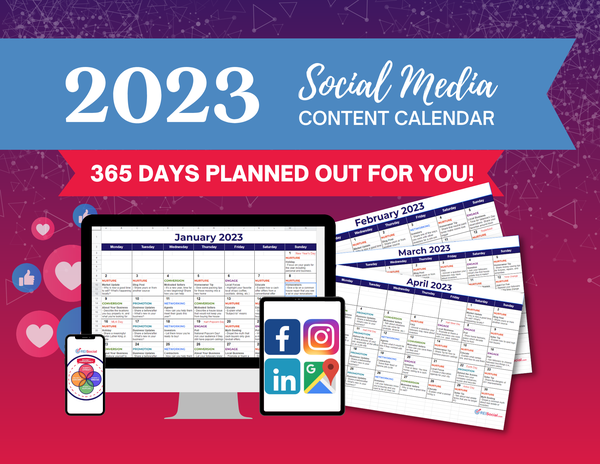 Finally!
The Social Media Shortcut You've been wishing for!
✔️Stop wasting hours wondering what to post
✔️Say goodbye to generic, spammy content
✔️Give it to your VA and let them run with it
✔️Based on a proven posting strategy that builds credibility and trust with sellers

Social Media Made Easy
Your 2023 Social Media Plan is done!
This is the ideal content calendar for Real Estate Investors who know that when it comes to marketing, social media is the best way to leverage their resources. This calendar takes the guesswork out of what to post so you can build credibility and create trust with motivated sellers, contractors, agents, lenders, and other investors or wholesalers.
This system takes the thinking and planning out of your schedule so you can focus on what matters most: operating and growing your business!
Here's What You'll Find Inside
Every single day of 2023 already planned for you (365 post topics in calendar format)

Tried and trusted post topics that thousands of successful investors have used to generate leads, grow their network, and leave their competition behind

A conversion strategy that will promote your business and generate consistent leads

A content strategy that works for any content format and any social media platform

The network posting guide - We've taken the guesswork out of knowing which platform is most ideal for your content
If you're ready to have 2023 be the year you finally take control of your social marketing, to build a community, and develop a 24/7 lead source, then this is the content calendar for YOU!
What's Inside?
365 post ideas for real estate investors
PDF and Google Sheets formats!
Baked-in content strategy to build your audience of motivated sellers, agents, contractors, lenders, investors and wholesalers!
15 content categories including: FAQs, Humor, Polls, and more!
Network posting guide so you know which content categories to post on each network!
Invitation to our private Facebook Group!